Molescroft Village Roll of Honour
18/09/2020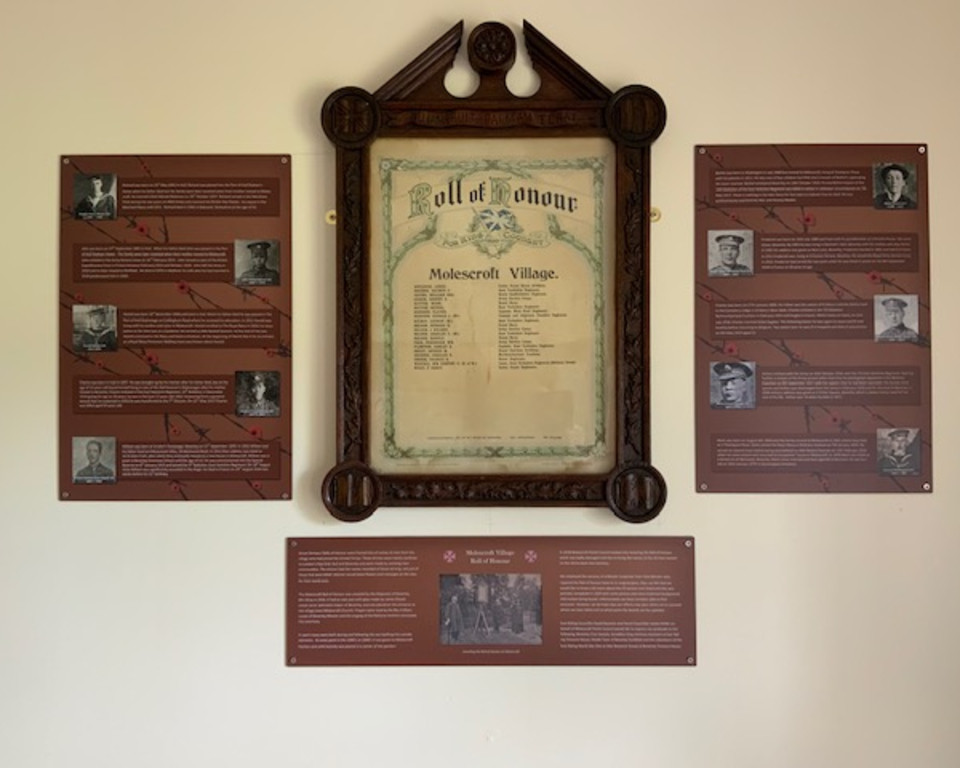 Street Shrines / Rolls of Honour were framed lists of names of men from the village who had joined the Armed Forces. These shrines were mainly confined to London's East End, Hull and Beverley and were made by working class communities. The shrines had the names recorded of those serving, not just of those that were killed. Women would leave flowers and messages at the sites for their loved ones.
The Molescroft Roll of Honour was unveiled by the Mayoress of Beverley, Mrs Wray in 1916. It had an oak case with glass made by James Ellwell, wood carver and twice mayor of Beverley, and was placed at the entrance to the village (near Molescroft Church). Prayers were read by the Rev A Ellam, curate of Beverley Minster and the singing of the National Anthem concluded the ceremony.
It spent many years both during and following the war battling the outside elements. At some point in the 1990's or 2000's it was given to Molescroft Pavilion and until recently was placed in a corner of the pavilion. In 2018 Molescroft Parish Council looked into restoring the Roll of Honour which was badly damaged and also to bring the names of the 20 men named on the shrine back into memory. We employed the services of a Master Carpenter from York Minster who repaired the Roll of Honour back to its original glory. Also we felt that we would like to know a bit more about the 20 service men listed and this was partially completed in 2020 with some photos and some historical background information being found. Unfortunately we have not been able to find everyone, however, we do hope that our efforts may spur others on to succeed where we have failed and at which point the boards can be updated.
East Riding Councillor David Boynton and Parish Councillor Jackie Heffer on behalf of Molescroft Council would like to express our gratitude to the following; Beverley Civic Society, Geraldine Gray Archives Assistant at East Riding Treasure House, Kloskk Tyrer of Beverley Guildhall and the volunteers of the East Riding World War One at War Research Group at Beverley Treasure House.