Molescroft Parish Council celebrates Molescroft Beverley Petanque Club Open Day
05/05/2022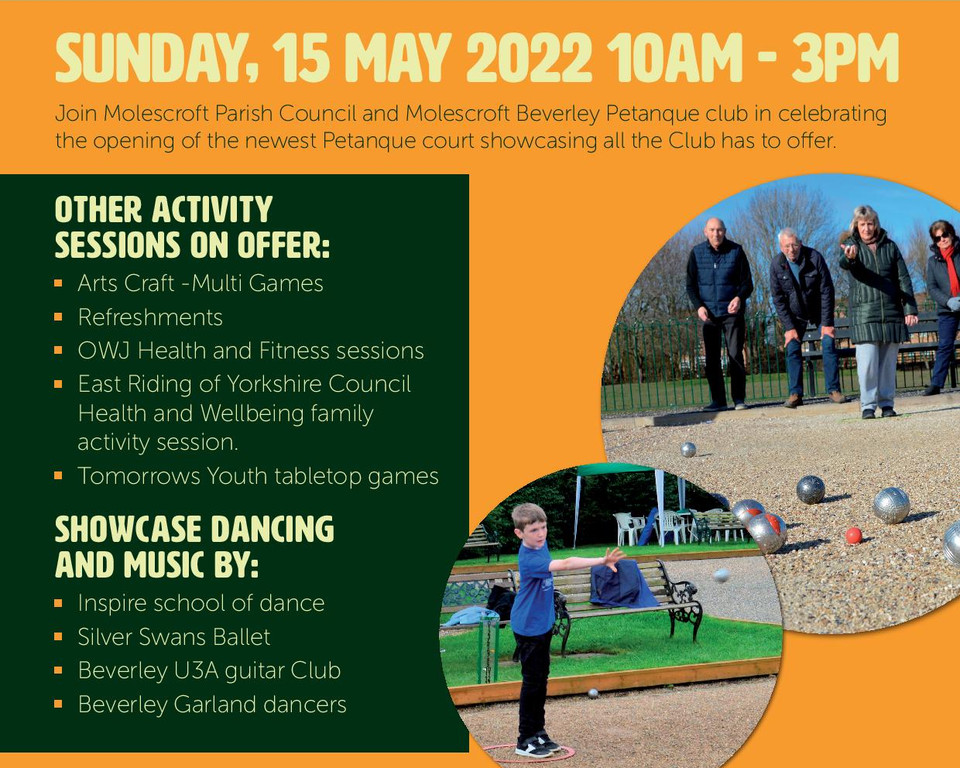 An event is to be held at Molescroft Beverley Petanque Club in Beverley in May to encourage local residents to go along and try out the sport.
Earlier this year, Molescroft Parish Council was awarded £20,600 funding from East Riding of Yorkshire Council as part of Commuted Sums from local housing developments. The funding went towards extending the Petanque piste at Molescroft Pavilion, and was supported by money from Molescroft Parish Council and the Do it for East Yorkshire Fund.
The funding enabled the parish council to extend the current Petanque pistes and build a new piste next to the existing site to increase the capacity at Molescroft Petanque Club.
On Sunday, 15 May, from 10am – 3pm, Molescroft Beverley Petanque Club will throw open its doors to anybody who wants to come along to give Petanque a try. The event will be open to people of all ages and abilities.
Mike Hildyard, Chair of Molescroft Parish Council said: "Molescroft Petanque Club is a true community club, and now that we have been able to extend and build new facilities, we are looking forward to hosting an event where we can show the community what we have, and give them a chance to have a go!"
Thierry Condette, Chair of Molescroft Beverley Petanque Club said "We are wanting to share our passion for Petanque and we are wanting to develop a youth development programme at the Club. We will also be looking forward to hosting matches against other teams from across the region."
Not only will there be the chance to have a go at Petanque, there will be other activities on offer. East Riding of Yorkshire Council's Health and Well-being team will be running some fun family activities, and there will be some showcase performances from Silver Swans Ballet, Inspire School of Dance and Beverley Garland dancers. Free refreshments will also be provided.
Molescroft Beverley Petanque Club is located at the Molescroft Playing Field. They usually play on Tuesday, Thursday and Saturday afternoons from 1.30pm.